Privacy Policy for motî
Summary (tl;dnr)
motî is an offline dictionary app based on open data. It optionally stores a time-stamped history of viewed entries on the device for quick access and export.
Your usage data is not shared with anybody, there are no ads, analytics or other type of tracking code embedded in the application.
Access to personal information
By default motî stores a history of all viewed entries together with a timestamp.
You can disable this in the app's settings by toggling "Entry history": Settings → motî → Entry history.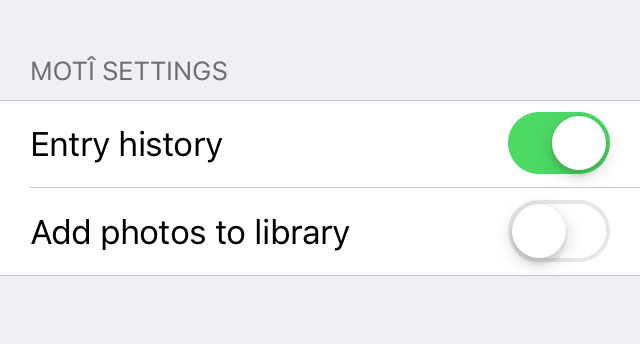 You can also remove the entire history or individual entries using standard table controls. See the documentation for more information.
You can add notes to dictionary entries. In the current version these are either snippets of text or photos, which can be taken directly from the camera or your library.
If you decide to add photos from or to your library motî will require read/write access to your photo collection.
The image data and metadata is stored in the user database and optionally in your photo library (Settings → motî → Add photos to library).
Again, this data can easily be deleted, as a whole or individually.
Access the user database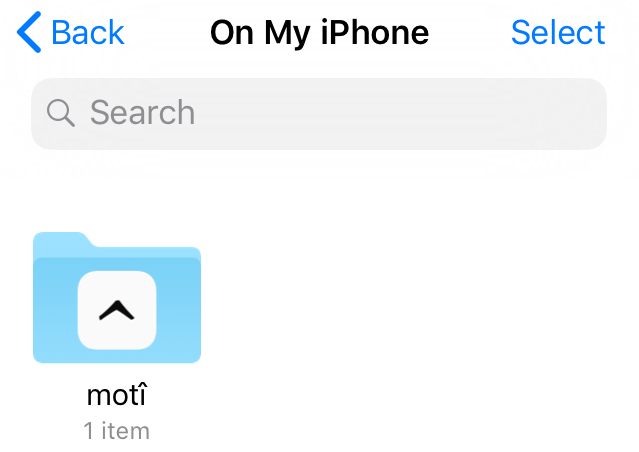 On iOS 11+, you can access and verify the personal data stored in the app using the built-in Files app.
On older versions you will have to resort to the iTunes File Sharing mechanism. The database file name is user.sqlite and it's stored in the standard SQLite format. After transferring it to a computer you can read it with a variety of tools.
Analytics
The only type of analytics used with the app is Apple's built-in App Analytics. This is opt-in and can be changed in Settings → Privacy → Analytics. See Share analytics, diagnostics, and usage information with Apple for more information.
Download of dictionaries
Dictionaries are downloaded directly from Apple's CDN (content distribution network), there is no interaction with third-party servers, and therefore no accessible exposure of IP addresses or other traceable information.
Changes
Updates to this privacy policy will be posted at this page.
Contact
For any other questions regarding the privacy of your data please contact me directly.
Contact information as listed in App Store:
Jan Berkel
Hinkeläcker Str. 35
67317 Altleiningen
Germany

email: <app@motî.net>

Appendix
List of requested permissions (version 1.1.2)
| Name | Scope | Why needed? |
| --- | --- | --- |
| Camera | Allows to access the camera | Add photos to entries |
| Photo Library | Allows to read and write your photo library | Illustrate entries with existing photos, store taken photos |